Did you know July 18th is National Insurance Nerd Day?
In honor of this day, the five insurance nerds of Echard Insurance Agency are hitting the books and answering some of your most common questions.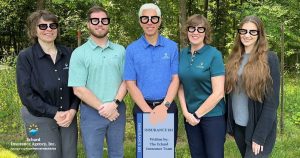 Q: What is the Transportation Expense Endorsement?
A: Transportation Expense is one of the top endorsements we add to policies; let's just say the Echard Insurance nerds find it to be a valuable coverage. This endorsement is for an auto policy and will cover the cost of temporary transportation (aka a rental car) from a covered loss to your vehicle. It will provide up to the limit you have selected, such as $900, $1,200 and $1,500. The endorsement applies to a specific vehicle and must have at least Other Than Collision coverage, which brings us to our next question…
Q: What does Other Than Collision and Collision coverage mean?
A: Other Than Collision coverage (also called Comprehensive) pays for damages to your covered auto resulting from theft, fire, hail, vandalism, hitting a deer, or a variety of other causes.
A: Collision coverage pays for repairs to your covered auto caused by a collision with another vehicle or any other object.
Did you know… when you have both Other Than Collision and Collision coverage on your auto this means your vehicle has "full coverage". When you don't have these coverages that means your vehicle ONLY has "liability coverage" (coverage for other vehicles/property you damage). If you already know this, give yourself a pat on the back!
Q: What other discounts are available for Auto policies?
A: Here are some of the many discounts we offer:
Multi-policy (Having both Home & Auto Insurance with Rockingham Insurance)
Advanced Quote
Paperless
Payment Plan

You get a discount if you have your bill plan set to Annual, Semi-Annual, or Quarterly, with the greatest discount starting with Annual.

Good Student
Q: What is the Service Line Enhancement Endorsement?
A: Ah yes, the Service Line Enhancement Endorsement! This endorsement is offered for Homeowner's and Dwelling Properties policies and provides coverage against damage to your underground service lines because of service line failure. Perils insured against include wear and tear, rust, corrosion, decay, deterioration, hidden or latent defect, freeze, collapse (but not sinkhole collapse), electrical and mechanical or pressure systems breakdown.
Q: Can I insure my personal property at replacement cost?
A: Great question! On a Homeowner's policy with Rockingham Insurance, replacement cost is included on policies that are a Form 5. If your Homeowner's policy is not a Form 5, this coverage can be added by attaching the Replacement Cost Loss Settlement Terms – Personal Property Endorsement. If you are unsure what form your Homeowner's policy is or have questions about this endorsement, give us a call!
Q: What discounts are available on a Homeowner's policy?
A: Here are some of the most popular discounts:
Multi-policy (Having both Home & Auto insurance with Rockingham Insurance)
Household Safety Credit(s) such as a Fire Extinguishers, smoke alarms, deadbolts
Protective Devices

Central Alarm (fire and/or burglary)
Sprinkler
Whole House Generator
If you have any questions about any of the topics discussed, please don't hesitate to reach out. The Echard Insurance nerds are here to help!